If you are tired of battling with wardrobes that are bursting with clothes, shoes, accessories and whatever else that can be squeezed in, it is time to consider adding more storage space to your bedroom.  In the UK, our quirkily shaped houses often mean bedroom storage space comes at a premium making bespoke fitted wardrobes a very attractive solution.  Unlike freestanding wardrobes, bespoke built-in wardrobes not only look great, they also allow for customisation to make the most of every inch of wardrobe space available.
How much do fitted wardrobes cost?  I hear you say.  Well, as always when working with bespoke solutions there is no hard and fast, one-size fits all answer.  Choosing a large fitted bedroom retailer chain can be an expensive path to choose, and therefore we would always recommend finding a recommended local joiner that is approved by a trusted tradesperson.  Here at Form Creations, we are proud members of Checkatrade where we are regularly vetted and monitored by their strict tradesperson checks to ensure we meet the highest standards of service and quality.  Always have your joiner come and see the space so you can talk through what you are hoping to achieve.  Your joiner will then be able to design something suitable (and bespoke) for you.
Price will always be determined by your specific requirements, but to give you a general guide here are the details and costs associated with two projects we have worked on recently.  The first project was a large seven door wardrobe fit and the second is a standard two-door wardrobe fit:
FITTED WARDROBE PRICE EXAMPLE 1:
Large seven-door wardrobe fit in Beckenham, Kent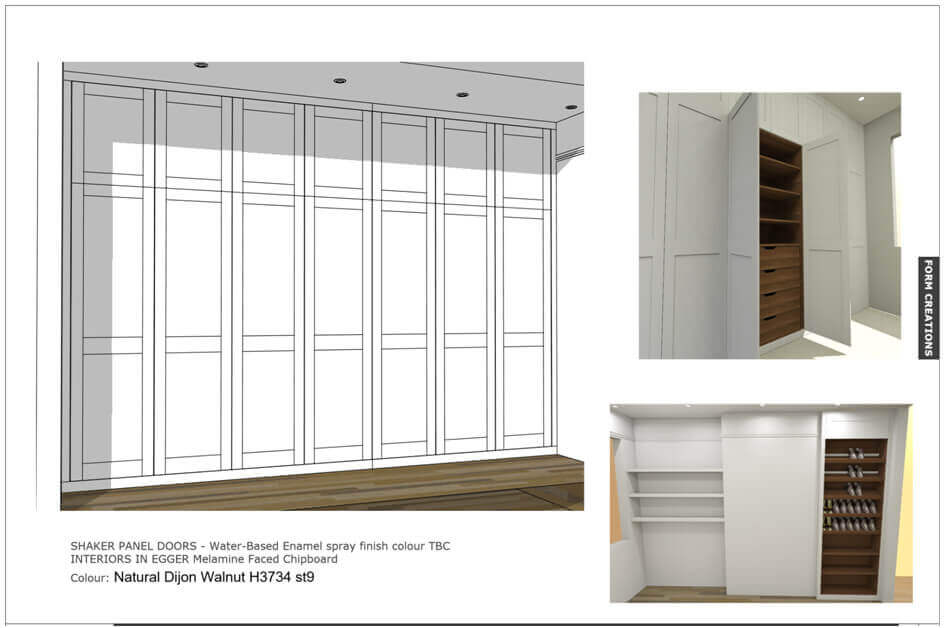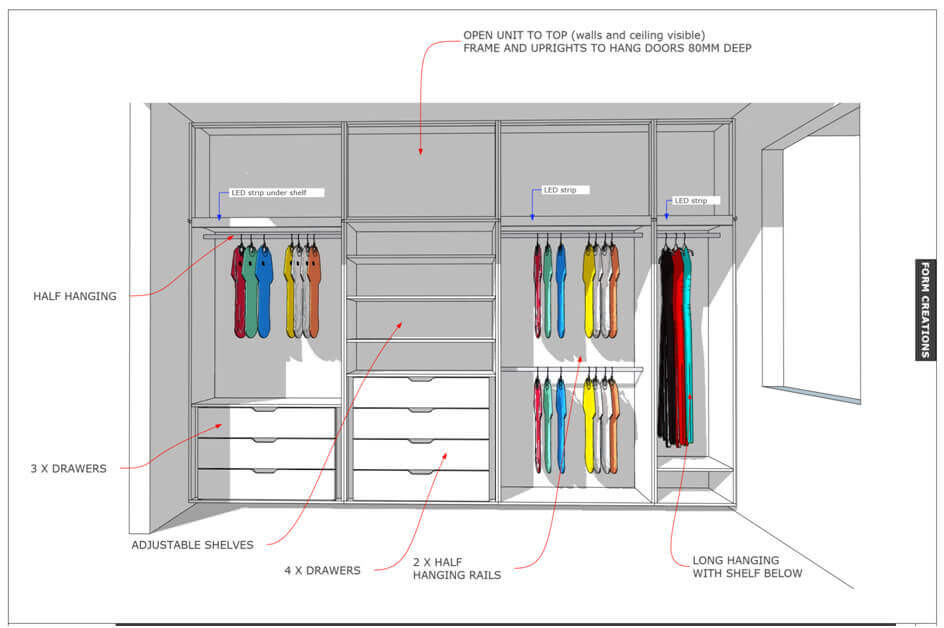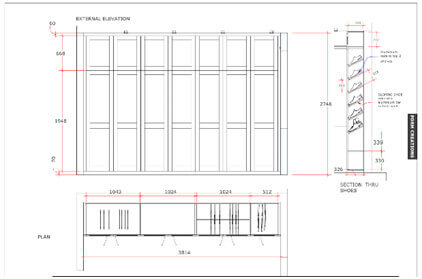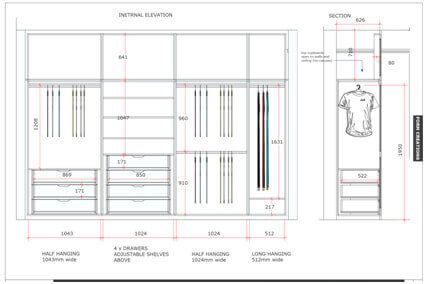 We delivered:
7 x long doors.
7 x short door above.
Fully carcasses base units with frame to top doors – open to ceiling and back walls.
4 x hanging rails.
7 x full extension soft close drawers.
Open shoe shelves with anodized aluminium upstand/heel support to rear.
3 x floating shelves to left alcove.
Internals in Natural Dijon Walnut.
Externals in water-based enamel spray. Colour matched to Farrow and Ball – Strong White.
Additional items:
3 x LED strips to run below shelf above hanging rails on IR door sensors with aluminium housing, warm white LED. Plugged into mains socket.
Changes to shoe shelving, to include 6 x lipped upstands to fronts of shelves, 2 x aluminium bars to rear.
Door and top box above shoe shelving. Top hung panel door on full carcass unit
Total cost (excl. VAT): £5227.00
FITTED WARDROBE PRICE EXAMPLE 1:
Standard two-door wardrobe fit in London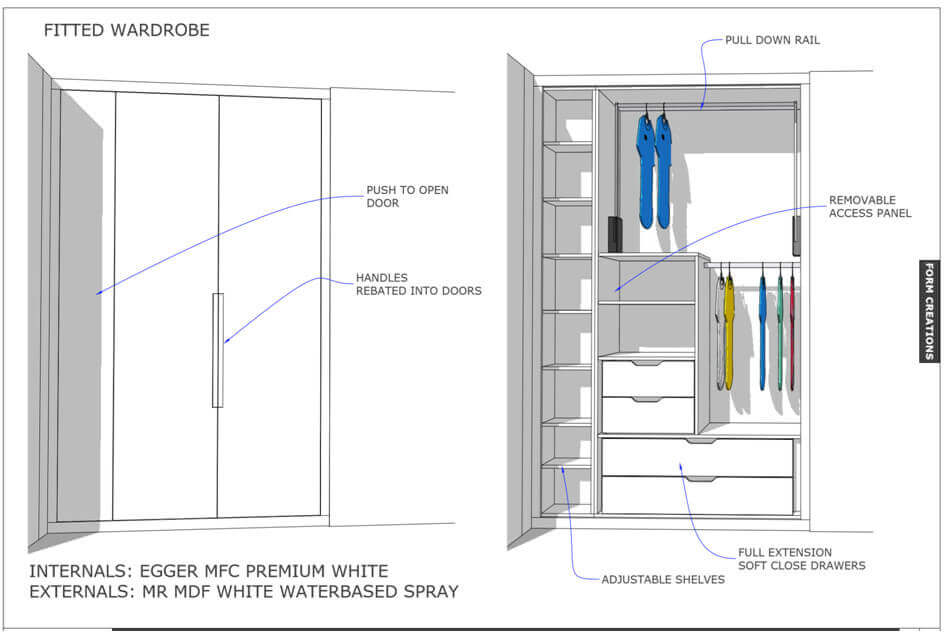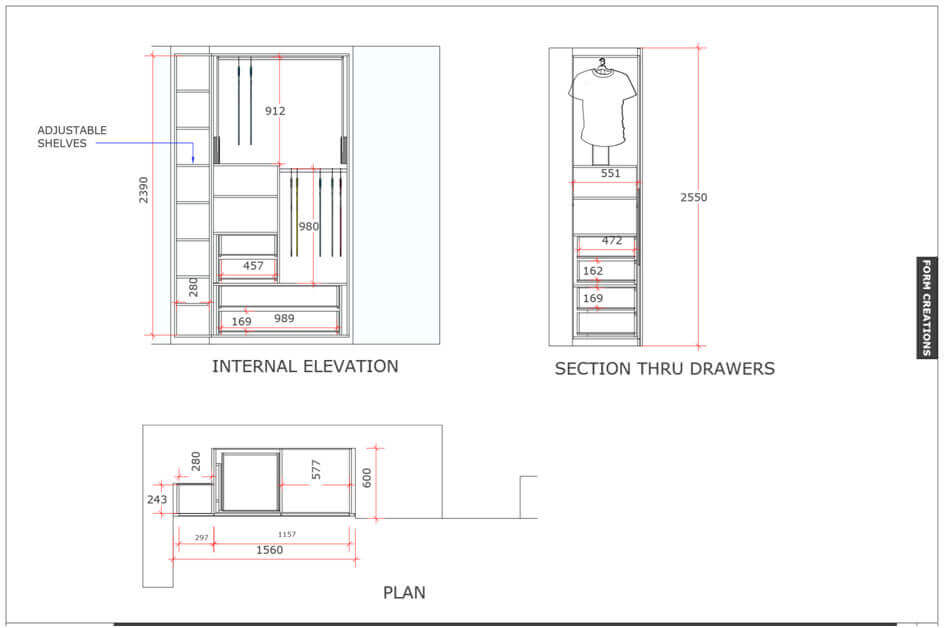 We delivered:
Layout to have shallow full height shelving with push to open door to left side.
2 door wardrobe with 2 x full width drawers to base.
2 x half width drawers above with adjustable shelf.
Half hanging rail to right.
Pull down rail to top.
Internals in light grey Egger MFC.
Externals in water based sprayed enamel.
Recessed finger pull-to doors.
Unit with doors to window recess.
2 x adjustable shelves.
Doors with recessed finger pulls.
Additional Items:
1 x additional drawer.
2 x removable shelves below pull-down rail.
Total cost (excl. VAT): £2250.00
We hope that these two, very different examples provide you with a good idea of how much fitted wardrobes cost when using a reputable, local joiner.  Fitted wardrobes are without doubt, a fantastic investment that will make the most of every inch of wardrobe space available in your bedroom.  A built-in wardrobe will not only create a mass of new storage options, it will also help to declutter your bedroom space and add value to your home.  If you are considering fitted wardrobes for your home, make sure you check out some more examples of our bespoke fitted wardrobes and contact us for a free quote if you want to start the ball rolling.  We are open for business and welcome your call.